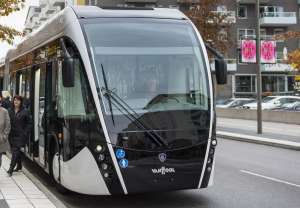 In cooperation with Van Hool, Scania is offering a new bus model for city or BRT routes that can operate on either biomethane or CNG and features a unique combination of capacity and low environmental impact. As well as being energy efficient, the Scania Van Hool Exqui.City bus also offers a light and spacious interior with an eye-catching articulated body that is reminiscent of a tram, thus combining the best of both worlds: the image and efficiency of a tram with the flexibility and cost levels of a bus system.
"We have joined forces with the renowned Belgian bus builder Van Hool to produce one of the most spectacular and low impact vehicles ever seen in the public transport market. The design has been well received in large cities Europe-wide, forming part of BRT systems or smaller scale bus systems and boosting the image of public transport," said Camilla Lood, Product Manager Sustainable Solutions at Scania.



The Scania Van Hool Exqui.City, which was unveiled at Persontrafik 2014, features a Euro 6 gas engine that operates on natural gas or biogas. It is mounted transversely at the rear and is rated at 320 hp and 1,500 Nm of torque available already at low engine revs, giving outstanding drivability for a gas engine. Moreover, the articulated design offers exceptional passenger appeal, with a light and spacious low-floor interior and four double doors (2-2-2-2) for convenient entry and exit at stops.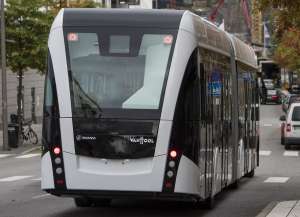 Operating as a modern looking and environmentally sustainable city bus, this bus is a guaranteed image-booster for public transport and can contribute positively to urban planning. The system lends itself to easy re-planning and re-routing, which is a great advantage in an expanding urban area and the choice of renewable fuels addresses CO2 emissions with immediate effect. The system can also be up and running rapidly and at a highly attractive cost.
Source: Scania