HAM Group has developed the first 100% vehicular Biomethane project in Spain, which will allow our customers to enjoy biofuel at our service stations.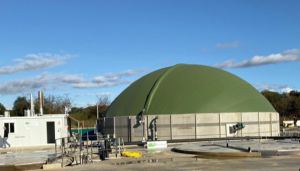 The project starts from the biogas generated in an anaerobic codigestion plant of residues, coming from the agri-food industry and from a coil farm, located in the Farm Mas Jonquer de Vilanant, Girona. The biogas plant is owned by Apergas, a company dedicated to the engineering, development and operation of biogas plants.

Our subsidiary FNX Liquid Natural Gas has installed a modular upgrading equipment, developed by our engineers and R&D department. This upgrading equipment allows to purify the biogas, which contains 50-60% methane, increasing its quality and obtaining a methane purity higher than 99%.
Once the biomethane, also known as green gas, is available, it goes through a compression equipment that allows its pressure to be increased to 250 bar, to be stored in tube trailers, which are used to transport the vehicular biomethane, through a virtual gas pipeline, destined for service stations, where 200 Nm3h of biogas will be managed, equivalent to 2000 Kg of Bio CNG per day.
HAM, taking advantage of the availability of compressed biomethane at source, will also install a dispenser in Vilanant, which will allow vehicles in the area to be refueled, reinforcing our network of service stations, made up of more than 80 points of compressed natural gas and liquefied natural gas, which allow you to circulate on the main national and European routes, with a more ecological and economical fuel.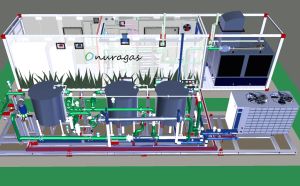 For Toni Murugó, Marketing Director of HAM Group, "Biomethane has great potential and will play an important role in the energy transition, reducing the emission of greenhouse gases, which affect climate change, thanks to its negative carbon footprint. In addition, it is a renewable energy that contributes to the Circular Economy, favoring the local economy, generating employment in rural areas, returning resources and nutrients to the soil, and as a sustainable alternative to incineration or landfills".
With this new project at HAM Group we can offer a comprehensive solution to all those customers who have biogas, but do not have a gas pipeline, since we take care of upgrading, compression, the virtual pipeline and the sale of biomethane at our service stations. In this way, we continue to innovate in all our projects, providing our clients with new technologies and products that adapt to their real energy needs.
FNX Liquid Natural Gas, with extensive experience in numerous technological sectors, is an expert in the design, manufacture and installation of natural gas plants & upgrading, in a modular format. It has its own manufacturing facilities in the Basque Country, where all products are developed and subjected to high quality standards before they are delivered.