As in 2013 and 2014, independent institute Ökotrend rates Zafira Tourer 1.6 CNG ecoFlex Number 1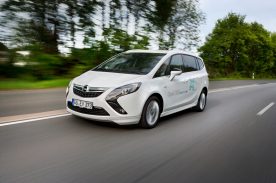 Opel can already look forward to its first award in 2015. In their "Auto Test Winner in Green" competition, the environmental institute Ökotrend and the trade magazine Auto Test have chosen the Zafira Tourer 1.6 CNG ecoFlex the most environmentally friendly vehicle in the van segment for the third year in a row. The compact seven-seater featuring an airy lounge atmosphere wins its class with the low-emission and ultra-economical 1.6 CNG ecoFLEX turbo engine under its hood. CNG (Compressed Natural Gas) gives particularly clean combustion in the innovative Opel four-cylinder engine.



With fuel consumption of just 4.7 kilograms (7.2 m3) high-grade natural gas per 100 kilometers over the combined cycle, the 110 kw/150 hp Opel Zafira Tourer 1.6 CNG ecoFLEX model emits only 129 g/km CO2, which earns it the German A energy efficiency label.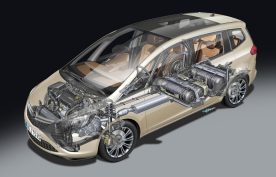 Opel is a recognized pioneer in the advancement of alternative propulsion concepts. More than a decade ago, in 2001, the automaker presented its first compressed natural gas vehicle concept with monovalentplus technology. Opel's CNG ecoFLEX engines are optimized to run on natural gas, biogas or any combination of the two, as well as gasoline. CNG and biogas cost considerably less than gasoline or diesel, and in terms of kilometers driven, are even cheaper than liquefied petroleum gas. Good reasons for many customers to use these naturally occurring fuels. In Germany, the government has introduced a tax benefit regulation for the use of natural gas as a fuel until 2018. This recognizes its environmental friendliness because natural gas vehicles emit up to 25 percent less CO2, up to 80 percent less nitrogen and are free of benzol and soot particles. If 100 percent biogas is used as fuel, the vehicle's carbon footprint is almost zero.
Source: www.opel.com