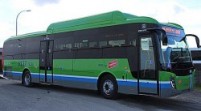 Madrid Regional Transport Consortium, the public body created to concentrate responsibility for regular passenger transport in the Madrid region, has purchased three new Euro VI-rated compressed natural gas (CNG) 12.8 metre buses to bring the number of CNG buses it directly operates on regional routes to 60, an increase of 50% over three years.



Manufactured by Galician company Carrocera Castrosua S.A., the three buses are the first in Europe with high floors on MAN A 69 chassis using CNG-powered Euro VI engines. The body type is Castrosua Magnus E, designed for intercity operations and modified to Madrid Regional Transport Consortium specifications. The emission of nitrogen oxides will be reduced by up to 75% and noise levels by 50%.
Investment in these vehicles, belonging to concession holder Ruiz, is EUR 756,750 (USD 930,000). Bus concessionaire EMT, Madrid's Municipal Bus Company, operates 791 buses run on CNG.
Source: www.busworld.org/