Gaz Métro and Fluxys are pleased to announce they entered into a collaboration agreement to pool their expertise and stimulate the liquefied natural gas (LNG) and compressed natural gas (CNG) markets for industry and the transportation sector.
The agreement will pave the way for an exchange of information and expertise related to LNG and CNG, particularly on the technical, commercial, contractual, regulatory, fiscal and administrative fronts. The two parties, which indirectly share a major shareholder in the Caisse de dépôt et placement du Québec, have also agreed to explore co-investment opportunities as interesting projects take shape.
Faced with environmental challenges, Québec and the European Union, have set ambitious goals for cutting greenhouse gas emissions. Natural gas provides concrete solutions to those challenges. Choosing natural gas rather than petroleum products as a fuel source has direct benefits for air quality and health: CO2 and nitrogen oxide emissions are much lower, while quantities of sulphur and fine particulates, particularly harmful to human health, are negligible. In light of these many advantages, natural gas and the associated infrastructure will continue to play a central role in the sustainable energy mix of the future; it is with that in mind this agreement has been entered into.



Jacques Daoust , Québec Minister of the Economy, Innovation and Exports: "Our government recently took an equity stake in Gaz Métro LNG, with a view to making a large quantity of liquefied natural gas available to Québec businesses by 2016. With today's announcement, Québec is positioning itself as a destination of choice for investors seeking to capitalize on the development opportunities provided by the Plan Nord and Maritime Strategy."
Sophie Brochu , President and Chief Executive Officer of Gaz Métro: "We are proud to have extraordinary partners that are all working to reduce our environmental footprint while promoting economic development in outlying regions. At Gaz Métro, we believe that natural gas is an integral part of the solution, and we are working hard to carry out promising projects that guarantee real results for Québec and abroad."
Walter Peeraer , Managing Director of Fluxys: "In Europe, natural gas is a sustainable alternative to traditional fuels for cars, trucks and ships, and the market holds significant growth potential. For Fluxys, Gaz Métro is the ideal partner for sharing know-how and expertise on putting in place the refuelling infrastructure required to give this new market a real boost."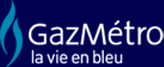 About Gaz Métro
With more than $6 billion in assets, Gaz Métro is a leading energy provider. It is the largest natural gas distribution company in Quebec , where its network of over 10,000 km of underground pipelines serves 300 municipalities and more than 195,000 customers. Gaz Métro is also present in Vermont , producing electricity and distributing electricity and natural gas to meet the needs of more than 305,000 customers. Gaz Métro is actively involved in the development and operation of innovative, promising energy projects such as the production of wind power, the use of natural gas as a transportation fuel and the development of biomethane. Gaz Métro is a major energy sector player that takes the lead in responding to the needs of its customers, regions and municipalities, local organizations and communities while also satisfying the expectations of its Partners (Gaz Métro inc. and Valener) and employees. www.gazmetro.com
About Fluxys
Fluxys is a Belgium -based, fully independent gas infrastructure group. The company is a major gas transit operator and its offering combines gas transmission, gas storage and terminalling of liquefied natural gas (LNG).
Fluxys is convinced that gas and gas infrastructure will continue to feature as core components of an affordable energy mix for tomorrow's low-carbon economy. Present in 8 countries, the group seeks to foster the integration of the European gas market through the development of a cross-border infrastructure backbone linking gas sources to markets, bridging the markets and gas trading places, and providing security of supply. The company focuses on safe, efficient and sustainable operations, quality services in line with market expectations and creating long-term value for its shareholders.
Besides its pipeline, storage and LNG terminalling assets in Belgium (owned and operated by NYSE Euronext listed Fluxys Belgium), Fluxys' partnerships include ownership in the Interconnector and BBL pipelines linking the UK with mainland Europe , the Dunkirk LNG terminal under construction in France , the NEL and TENP pipelines in Germany , the Transitgas pipeline in Switzerland and the TAP pipeline from Turkey to Italy to be constructed so as to bring gas coming from Azerbaijan to Europe .
For more information: www.fluxys.com
Source: http://finance.yahoo.com