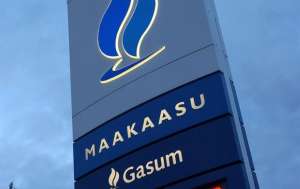 A major step forward was taken in the Finnish bioenergy sector as an integrated biogas production and upgrading facility was opened as a joint project of LABIO and Gasum in Kujala, Lahti, on Thursday March 5, 2015. The facility is a prime example of the promotion of circular economy as it will produce 50 GWh of upgraded biogas from 44,000 tonnes of waste per year. The Kujala facility is the largest producer of upgraded biogas in Finland in terms of production capacity. Renewable and 100% Finnish, biogas offers a flexible and efficient way of reducing emissions from energy consumption.
A joint project of LABIO and Gasum, the Kujala biogas production and upgrading facility enables further efficiency in energy recovery from waste. The Kujala facility is capable of using raw materials such as biowaste from homes, industry and retail operators. Sludge from wastewater purification plants can also be processed by the facility.
"The conversion of local waste materials into energy and new raw materials is a prime example of resource wisdom based on the circular economy. Our partnership with Gasum has been hugely beneficial in the construction of this facility setup that required high levels of expertise," says LABIO CEO Ari Savolainen.
At Kujala the biowaste process comprises an integrated composting and biogas facility. The facility has an annual capacity for 80,000 tonnes, of which an annual total of 44,000 biodegradable waste will be processed by the biogas production facility. The facility's annual biogas production potential totals 50 GWh: enough to cover the annual energy consumption of 140 buses, 4,500 cars or 2,000 detached houses.



"Stricter emission regulations, separate emission targets and consumers' increased environmental awareness will increase the demand for biogas solutions in the future. In addition to demand, the efficient development of the biogas market will require cooperation models like this as well as increases in biogas production. Our cooperation with LABIO is a major step forward in the development of the Finnish biogas market," says Pasi Torri, Business Development Manager, Biogas and Transport Solutions, Gasum.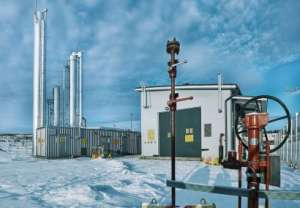 Biogas provides an efficient way to reach environmental objectives Biogas can be used for exactly the same purposes as natural gas without any need for additional investments. Gasum biogas is the only road transport fuel in Finland that has been awarded the Made in Finland Key Flag Symbol and the Nordic Ecolabel. Biogas can also be used in industrial and service processes, heat production and property heating. Homes and restaurants can use biogas to fuel gas cookers. Switching to biogas helps cut greenhouse gas emissions, and its combustion does not cause any fine particulate emissions at all.
From the LABIO waste processing process biogas moves on to the Gasum upgrading facility from where upgraded biogas is transmitted via the gas pipeline network to end customers. The sludge, or digestate, created in the waste processing facility is composted into fertilizer or plant growth substrate products at Kujala. Heat energy from the composting process is also used to heat the biogas facility. This process on the whole helps save natural resources and represents the circular economy at its best.
The commissioning of the Kujala biogas facility began in October 2014, and full production capacity will be reached in phases by 2016. In addition to Kujala, Gasum feeds biogas into the gas network from Mäkikylä, Kouvola, and Suomenoja, Espoo.
LABIO provides industry, waste management operators and municipalities with biowaste and sludge processing services. Located in Lahti, Finland's largest biogas production and upgrading facility produces 100% Finnish, renewable biogas from waste. The LABIO composting facility produces compost for agriculture and for use as raw material in plant growth substrates. Reliability, environmental friendliness and supply security are attributes that sum up the operations and production of LABIO Oy – www.labio.fi
Gasum is a Finnish expert in natural energy gases. The company imports natural gas to Finland and transmits and supplies it for energy production, industry, homes and transport. Gasum is an active developer of the Finnish biogas sector. The company is the leading supplier of biogas and liquefied natural gas (LNG) in Finland. Gasum has launched several studies concerning the development of biogas production and the utilization of LNG as a marine fuel in Baltic Sea shipping. In February 2014 Gasum announced the acquisition of the majority of the LNG distribution business of the Norwegian Skangass, and the transaction was completed in May 2014. Cleanly with natural energy gases.
Source: www.gasum.com/