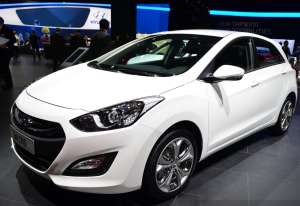 The New Generation i30 CNG features a debut of the company's new 1,4-litre T-GDI engine, mated to a new seven-speed dual-clutch transmission, as well as the latest application of its CNG research and development programme.
When equipped with the new seven-speed dual-clutch transmission, the engine emits CO2 emissions as low as 87 g/km, a significant reduction compared to the equivalent internal combustion engine (ICE) model, and meets the strict Euro6c emission standards three years ahead of introduction in 2017. Running on CNG, the engine develops 117 ps and maximum torque of 206 Nm from 1.500 rpm to 3.500 rpm.
The CNG is stored in an innovative rectangular tank within the floor pan, ensuring interior space remains the same as its ICE counterpart. Lined with a gas-impermeable polyamide matrix (inside) and protected by high-performance glass-fibre reinforced plastic (outside), the new system provides a high-strength, low-cost solution to gas storage, and weighs 50% less than the equivalent steel tank.



Up to 15 kg of gas can be stored in the tank at 200 bar pressure. A new electrical pressure regulator lowers gas pressure to an operable state in two steps, first to 20 bar and then to 4 to 11 bar, which is fed into the engine. The bi-fuel power plant uses both gasoline and compressed natural gas as fuel, with the flexibility to automatically switch to gasoline once the supply of CNG has been used.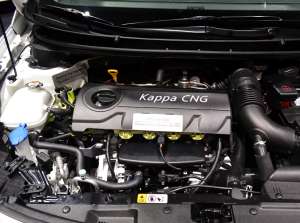 Allan Rushforth, Senior Vice President and COO, Hyundai Motor Europe, commented: "Hyundai Motor is committed to creating sustainable mobility for European consumers. Alongside our pioneering fuel cell programme, we continue to develop vehicles that use new technologies and alternative fuels to reduce vehicle emissions and improve consumer's experiences with Hyundai."
Source: www.hyundai.com