Antares Motors, a member of Antares Group, has publicly announced that it has successfully completed the first conversion in Romania of a gasoline vehicle to also use CNG – compressed natural gas.
The success comes after careful preparations, including training sessions of Antares technicians with Italian specialists, both in Italy and Romania. The good news is that CNG can be adapted to both gasoline and diesel engines.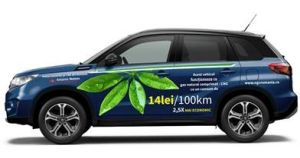 Ecological Fuel for Economical Transportation
The advantages of using CNG are remarkable:
– it is up to 2.5 times more economical than petrol;
– it prolongs engine life;
– the vehicle is running quieter;
– pollution rules are met and even more, the conversion drastically reduces fine particulate emissions.
For the first time Antares Motors will offer customers on the Romanian market the opportunity to convert the propulsion of their cars to CNG, choosing one of the most prestigious and traditional brands in Italy: BIGAS – Cavagna Group or EMMEGAS – Landi Renzo Group.

CNG to any gasoline car. We are expanding quickly
For starters, all gasoline cars, even those that meet the most severe pollution standards, are targeted for conversion.
Commercial conversions will begin in 2018 at the Antares Motors technical center in Râmnicu Vâlcea, a car service under the Bosch Car Service franchise (BCS). It is expected to expand rapidly to services from the BCS network in Bucharest and Timisoara.
The strategy of expanding the network of CNG conversion and repair workshops provides for the licensing of at least one center in all localities where CNG gas pipeline stations will be inaugurated in Romania: Bucharest, Timisoara, Constanta, Pitesti, Arad, Deva, Sibiu, Craiova and Drobeta Turnu Severin.
The first conversion of a Suzuki Vitara, a successful test. Dacia Logan is next
For example, the vehicle on which the test conversion was performed, being prepared to be submitted to the RAR (Romanian Automotive Register) for the approval of the BIGAS CNG conversion system, is a Suzuki Vitara (production year 2017, cylinder capacity 1.586 cm3, power 88 kW, Euro 6).
Tests on CNG propulsion with the gas analyzer at its own ITP station, the first RAR-approved station for technical inspections of CNG vehicles, have demonstrated the light compliance of Euro 6 norms after conversion.
A second conversion test on a Dacia Logan, Euro 4, with an EMMEGAS CNG system, is also being prepared. For logistical reasons, both vehicles and conversion systems will be submitted simultaneously to the RAR for approval.
Depending on the number and capacity of the storage cylinders, the compressed natural gas autonomy of the converted vehicles varies from 200 to 500 km, which is added to the autonomy given by the existing gasoline tank.
The advantages of using CNG make this alternative fuel a serious option not only for individual users, but also for taxi, courier, distribution, public transport and utility services in any locality in which gas compressed natural gas stations will be set up.
Antares Group is a pioneer on the Romanian alternative fuels market. Denisson Energy, a member of Antares Group, owns the first public CNG station in Romania and deploys the first network of public CNG stations in Romania along the pan-European corridors. Antares Motors, also a member of Antares Group, holds the first ITP station for CNG vehicles in Romania.
About Antares Group
Antares Group was established in 1994 and has its core business in Râmnicu Vâlcea, Romania. Currently, 10 companies with about 500 employees are engaged in the group, with activities in passenger transport, tourism, construction, car service, importers and LPG distribution, and recently CNG.
The Group's strategy consists in the sustainable development of the business by continually improving the quality of products and services, increasing profitability and lowering operational costs.
More information about Antares Group and CNG can be found here: http://antares-group.ro, http://ngvromania.ro/