The new natural gas 1.5 TGI Evo high-tech engine featuring VTG turbocharger and Miller combustion process.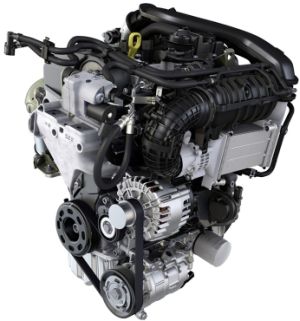 The 1.5-litre direct injector, fitted with VTG forced induction (latest-generation turbochargers with variable turbine geometry), is based on the 1.5 TSI ACT BlueMotion engine. Like its counterpart, the equally powerful natural gas engine, at 96 kW/130 hp, uses the efficient TSI/TGI Miller combustion process.

For Volkswagen, the new 1.5 TGI Evo is a linchpin in its natural gas campaign. Its stated objective: further increasing the volume of natural gas engines operating efficiently and largely without generating particle emissions. On the German market, natural gas engines already represent the drive type with the strongest growth. Moreover, the TGI petrol engines can be run on e-gas – renewable CNG based on methane obtained from wind, solar, hydropower or biomass power generation processes.
Production of the 1.5 TGI Evo engine will start this year. With an estimated average consumption of 3.5 kg/100 km (CNG) in the current Golf5/6 featuring dual clutch gearbox (DSG), the agile turbocharged engine will be as efficient as it will be cost-effective to run. This results in a range of 490 km in CNG mode. Thanks to the automatic switch to petrol mode, the range is extended by an additional 190 km (all data has been calculated on the basis of the NEDC cycle). In addition to its efficiency, the engine offers dynamic performance and torque vales: 200 Nm of torque are already available at 1,400 rpm (up to 4,500 rpm).
Source: www.volkswagen-media-services.com