The world premiere of the ŠKODA SCALA will take place on 6 December in Tel Aviv / Israel.The new hatchback model will enter the market as early as in the first half of 2019.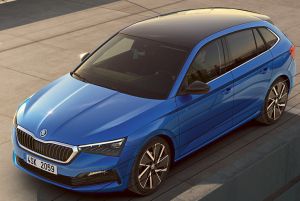 The all-new model offers a high level of active and passive safety, full-LED headlights and tail lights, plenty of space for luggage and passengers, as well as numerous Simply Clever features.

The 1.0 G-TEC is the environmentally friendly way to drive the new ŠKODA SCALA. The three-cylinder is primarily designed to run on natural gas (CNG), which results in less CO2 and NOx emissions than conventional fuels. The latest version of the CNG engine delivers 66 kW (90 PS), which is transferred exclusively by a manual 6-speed gearbox.
Even with the standard chassis setup, the new ŠKODA SCALA offers very safe and agile driving characteristics. The optional, new Sport Chassis Control, which offers two different tunings, provides even more individual options and sportiness. The chassis is 15 mm lower and, in addition to a Normal mode, also has a Sport mode with valve-adjustable shock absorbers that give the car a firmer ride. This provides a sportier driving experience and a more intensive connection with the road. Drivers can switch between the two settings via the Driving Mode Select menu.
Source: www.skoda-auto.com