They will replace 4 to 5 years old diesel-powered vehicles in the Belgian firm's fleet of 1,400 trucks and 3,000 trailers, which has grown steadily following a series of acquisitions. The company already operates 132 Stralis vehicles, including two running on compressed natural gas (CNG).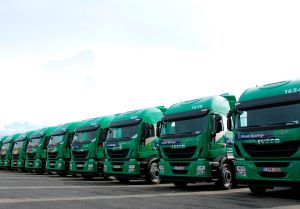 The pan-European transport and logistics specialist Jost Group has signed an innovative deal for 500 new trucks Iveco Stralis NP vehicles based on the LNG technology.
Designed to be the most sustainable long-distance heavy truck ever manufactured, the new deliveries will then run on LNG – widely regarded as the only currently available mass market alternative to diesel.
With such a deal, Jost Group clearly invests in the Future, in a sustainable way for the environment, faithful to its commitment to reduce CO2 emissions.
Taking that decision, Roland Jost opens the way to another vision of doing transport in Europe.
Continue reading →